Avatar Profile
Age: 22
Gender: male
Species/Race: Dalicala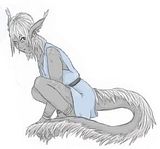 Height: about 8 feet upright, about 4 feet at the shoulder while crouching/ on all fours
Build: lithe, graceful but firm. Elongated catlike body with long limbs and a long, thick, muscular tail.
Coloration: mostly a light gray with slightly lighter and darker gray dapples along his back. very light gray, almost white hair on head and along his back and tail only.
Eye Color: light gray, almost white
Clothing: Sometimes none but usually a loose fitting, light blue, silk tunic
Affiliations: formerly of The White Wood Clan, led by Sonya, and his likely fiancee Lini
Accessories: Silver earrings and bracelets/anklets
Abilities: catlike dexterity and speed. Low-light vision, strong sense of hearing and smell.
Weaknesses: bright lights, loud sounds, otherwise standard (no real immunities or vulnerabilities)
Description of Personality: quiet and reserved, great respect for women due to upbringing
Brief History: Coming from a very female dominated society (to the point where the men, though quite larger than the women, are forbidden to raise their heads above a woman's.) Tier found an escape in solitude, keeping himself from his clan as much as possible. Particularly young Lini, daughter of the clan's matron, who had decided that Tier would be hers. Finding every possible excuse to wander farther and farther from his people, he finally decides to leave the clan for good in search of better things with nothing but the Great Mother Daliana watching over him in the night sky.
A brief and character revealing answer to the question, "What is your ambition?": To find things greater in life than merely existing.