OOC: The following material on Porter's racial history was co-written by Porter's Player, and is presented at this time with his permission. BIC:


Shrine - Torii Gates

"Well, Adrian, do excuse my suspicions. My Companion's Lifemate is beset by some great distress, and thus the revelation that someone was slinking about unseen had me worried as to their motives. Pray continue with your good works, and we shall not disturb you."

The vixen looks up at Starchaser and shakes her head.

"You really don't have a clue, do you? I'll grant that the ones who played with your mind were quite expert at their role. It would take someone with talents as strong as mine to even detect that you had been tampered with. And even after all that you have been through, you still haven't begun to realize the truth, have you? No, I can see in the questioning look in your eyes that you don't yet understand. So I shall tell you."

"Long before I met you, I studied your race and their history. I was intrigued by several things about them, most especially the talent for making Portals that runs so strong in your particular line. Now, I know you studied your own history diligently. But the history you studied was what your Creators wanted you to learn. Some critical points that pertain to your race have been omitted from those history lessons, and from the minds of most of those who knew the truth. But unlike you, I did not limit my 'studies' to the official texts. I managed to go to the source, to locate some of your surviving Creators, and extract directly from their minds just what it was that made the Bernids so unique."

She holds up a handpaw to forestall the inevitable complaint that she sees forming in Starchaser's mind.

"No, hear me out, please. If you want to understand the amulet, you must first understand yourself. From your official histories, you know that your race was created about six generations ago, and that three generations ago they suddenly won their independence from their Creators. Most of that history is quite true. Your Creators were quite surprised when their created ones turned on them. They had good reason to be, for they had been conditioning your people's minds for several generations."

"Before your race was created, the mega corporation that gave birth to your race had created and produced several other anthropomorphic creatures. Felines, Canines, Lupines, Mephits, and a few other selected species. They had been designed and marketed as 'exotic companions', for the most part. These creatures were sterile, and were carefully conditioned to satiate the carnal desires of a certain segment of the Human population who were enamored in concept with such species. That fact was well known, and they still are in that business to this day, with all such creatures being traded, sold or rented as chattel. It was less well known, but still a matter of public record, that they also devised ways to transform Human individuals into animal-like species, using advanced neural transfer techniques to relocate the minds of certain clients into anthropomorphic bodies. That fact that this was considered illegal by virtually all Human governments didn't stop them from accepting the patronage of wealthy individuals who desired this service, for themselves, or... for others."

"But the Bernids were different. They were ostensibly marketed as family companions and servants, or as workers in the transportation and space industries. This required a higher level of intelligence and independence than a mere slave. As you know, the true intent of their marketing the Bernids to a wider audience was to seed them into vulnerable sectors of society. They were permitted to be fertile, and therefore self-propagating, to allow them to spread more widely. But all Bernids at some point or another went through the same rigid training program, before being allowed to work in Human society."

"A part of what they intended was for the Bernids to be able to pass for normal canines. They would be quite large, certainly, but they would, to all intents, pass undetected in their quad state, presuming that they acted as normal canines, and wore no Human-style clothes. I have seen you change to quad form many times. Tell me, can you recall ever having looked at yourself in the mirror when you were in quad form? I'd wager that you can't recall doing so. Does that strike you as just a little strange? Have you ever questioned the fact that just by dropping to all fours, people saw you as a normal doggy?"

"The reason for those mental blocks, and for the acceptance so easily given by the perception of others, is that your species already possesses an ability to shapeshift, in a limited fashion. Most Bernids can change shape from anthro to canid quad. Some, including you, can also change their fur coloration, to anything from solid black to solid white, and almost any marking pattern they want. Part of your pup's training program includes 'learning how to walk upright'. At that point they teach you how to shift, but they also induce mental blocks that make you think that is merely a natural ability, and which cause you not to question the inconsistencies I just mentioned. Are you with me so far?"

--------------------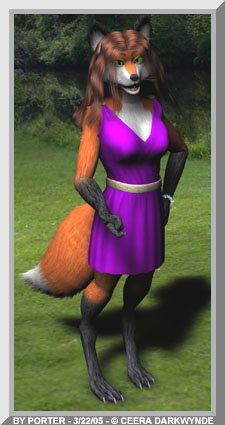 Thank you Porter! *HUG*
Click the card to see it bigger.